Burner blends together hip-hop, quantum physics, and the stigmatized knowledge of Illuminati conspiracy theories, in a gritty tale that addresses the societal questions of "Who's in control?" and "Are we as powerless as we've been made to feel?" 
Featuring gangsters and strippers, and set against th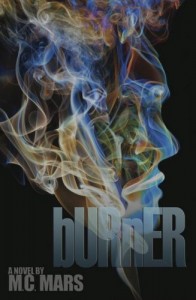 e backdrop of San Francisco's Tenderloin district, the book is ultimately about a young man's self-transformation; the kind of conscious transformation that revolutionizes our perceptions of the world. To underscore this, the book begins with two inspired quotes. The first is from Robert Anton Wilson: "The border between the real and the unreal is not fixed, but just marks the last place where rival gangs of shamans fought each other to a standstill." The second is from Albert Einstein: "Time and space are modes by which we think, and not conditions in which we live."
Jason Teal, is a hip-hop deejay and producer who dropped out in his last semester as a college astrophysics major and moved to San Francisco with his rapper friends to pursue a career in music. Three years later, the hip-hop group he co-founded has signed a major label deal – without him. Meanwhile, Jason has lost sight of his dream. He's working a job he hates, and his relationship with his stripper-girlfriend has hit rock bottom. And now, with greater frequency, he's having hallucinations. He hallucinates walls and trains covered with graffiti pieces (burners).
The book has a strong sexual component. Jason's girlfriend, Alicia, has become an exotic dancer to support her three-year-old daughter, and to put herself through school to earn a degree in psychology. But as she exploits her sexual power in the club, she also becomes its victim.
The torrid passion that brought Jason and Alicia together has now turned sadistic and self-destructive.Into the chaos of Jason's downward spiral steps a mysterious figure with ties to a secret society.Cyril has the power to transform Jason's life overnight. He has money. He has answers. He seems to know everything. But first Jason must prove himself worthy of such a mentor and undergo "The TEST." The TEST will take Jason down the rabbit-hole into the new paradigm of wave/particle duality where quantum physics meets mysticism at the level of the unseen. In the rabbit hole, he'll encounter a dominatrix with a chip on her shoulder, a gangster who blew off his leg making a bomb, a man in a wheelchair dressed as a pharaoh beckoning him with ESP, a ginseng store owner who looks like Peter Lorre on speed, CIA MK ULTRA experiments, and many more weird and terrifying things that will lead to a head-on collision with himself, and the Big Bang of consciousness. But in a world where celebrities are treated like gods, and the corporate media molds our notion of Reality, consciousness of this degree comes with a price.
Read more about Burner, including an excerpt, here.
Burner is available at Amazon, Barnes & Noble, Apple, Sony, and Kobo.
ISBN: 978-0976078821
eISBN: 0976078821
Publication: July 31, 2012